Home Page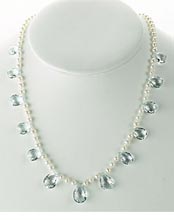 Gooden's Jewelry is dedicated to creating stunning jewelry for any occassion. From casual to formal, from costume to high-end, Gooden's has you covered.

Check out our new line of faceted stone necklaces and earrings. We also have extended our line of pearl jewelry. You've never looked so good in pearls!

If you've got an old strand of pearls that you haven't touched because it's coming unstrung, we can help! With expert stringing, you can have a professionally restrung necklace or bracelet for much less than you might think.